BRITISH ASBESTOS NEWSLETTER
Contents:
1. Annual Parliamentary Asbestos Seminar
2. Environmental Claim against Cape
3. HSE Dismisses the Risks from Damaged Asbestos and Widespread Contaminationin a School
4. Disbursement of UK Insurers' Research Fund
1. Annual Parliamentary Asbestos Seminar
The 2013 seminar of the Parliamentary Asbestos Sub-Group was held in the House of Commons on Wednesday, July 3, two days before Action Mesothelioma Day. This year's agenda included input from American, German and British speakers specializing in medical issues, trade union mobilization, asbestos victims' needs and the global campaign for asbestos justice. The event which had been scheduled to take place in a large Committee Room was, at the last minute, transferred to a venue on the top floor. Fortunately, the audio-visual equipment which had been pre-ordered was supplied as requested and there was, just about, space for all the delegates. It was unfortunate, however, that this year's room and time assignment coincided with Prime Minister's Question Time. There is little doubt that the scheduling adversely impacted on the attendance of Members of Parliament at this year's event.
The session began promptly at 2 p.m. with a welcome given by MP Jim Sheridan, Chair of the Asbestos Sub-Group. A pioneering asbestos initiative by the European Federation of Building and Woodworkers (EFBWW) was the subject of the talk entitled Europe 2023 – Asbestos Free by Rolf Gehring.1 Mr. Gehring discussed the work begun over three years ago to develop new training programs, extend collaborative networks and lobby European bodies regarding the imminent hazard posed by asbestos. Research undertaken revealed that the risk to construction workers was particularly high; workers who had come into the industry since asbestos had been banned had a low degree of awareness of the hazard they could encounter while undertaking maintenance or refurbishment work in contaminated buildings. Based upon a thorough analysis of the asbestos challenges faced by European countries, action was taken by the EFBWW and its partners which included:
collaboration with European Parliament colleagues on an asbestos initiative – this received overwhelming approval in a vote taken by the European Parliament in March 2013;
national asbestos action days with material and posters produced in eight languages;2
a social partner project on Asbestos Information Material which was published in 2013;3
a research project on the Recognition and Compensation of Asbestos-related Diseases in Eastern Europe; to be launched in September 2013;
collaboration with asbestos victims organizations and other partners on projects including the September 2012 conference: Europe's Asbestos Catastrophe;
efforts to delineate and lobby for improved aspects of the EU community's asbestos policy within its Occupational Safety and Health program: ongoing.
Despite escalating UK mortality from asbestos-related cancers, there has been insufficient government research funding to have a discernible effect on patient outcomes. In the United States, the only country which had more mesothelioma deaths than the UK between 1994 and 2008,4 a professional and focused campaign to generate financial support for mesothelioma research has been conducted by the Mesothelioma Applied Research Foundation (MARF).5 MARF's Executive Director Nurse Practitioner Mary Hesdorffer explained how MARF has awarded 86 peer-reviewed grants totalling $8.2 million to researchers in seven countries and influenced $8.8m in federal research funding since 2000 in her presentation: Mobilizing for a Mesothelioma Cure.6 The size of the United States and the geographical spread of mesothelioma patients constitute sizeable challenges for the provision of support for people whose lives have been impacted by mesothelioma. Engaging with social media and online platforms, MARF personnel have built a cohesive, active and broad-based community which advises, educates and reaches out to the wider public. Online support is provided via various channels which include the Mesothelioma Survivors and Caregivers Group, Caregiver Conversations and the Mesothelioma Loss Group.
Addressing the tragic mortality rate of asbestos cancer, Ms. Hesdorffer considered what would be needed to change the rules of engagement in the war on mesothelioma. "Wouldn't it be nice," she asked "to begin a conversation about survivorship." For that to happen would, she said, require "increased funding for research, access to clinical trials and mounting more international trials." Of particular interest to the mesothelioma patients and caregivers in attendance was her discussion about ongoing clinical research into mesothelioma protocols including HSV 1716 (mutated herpes simplex virus), second line treatment with Vinorelbine and trials of: Ganetespib with Pemetrexed-Cisplatin, Tremelimumab and Verastem. Information regarding the "Specialized Programme of Research Excellence" (SPORE) of the U.S. National Institute of Health stimulated a great deal of interest with a series of questions being asked about the parameters and scope of the program to "fund 5-year grants to support state-of-the-art investigator-initiated translational research that will contribute to improved prevention, early detection, diagnosis, and treatment of mesothelioma."
The next speaker was Dr. Daniel Sterman, Associate Professor of Medicine from the University of Pennsylvania Medical Center, a facility which is ten miles from the asbestos-riddled town of Ambler, formerly home to a huge asbestos factory. Dr. Sterman's subject was: Advances in Treatment of Malignant Pleural Mesothelioma: A Reason for Hope.7 Introducing this topic, Dr. Sterman summarized what mesothelioma was, how it was contracted, incidence rates in North America and Asia and some of the complexities which make finding a cure so problematic. The ultimate and long-term objective was, he said, to conquer mesothelioma; in order to maximize treatment options the short-term aim was to develop protocols which would enable early diagnoses to be made and symptoms to be controlled. Some positive results have been obtained with biological markers such as Fibulin-3. Advances have been seen in: surgical techniques, with a shift towards lung-sparing approaches, new post-surgical therapies (e.g. WE-1 Peptide Vaccine), the development of personalized chemotherapy programs and the ability to precisely target tumors during the administration of radiotherapy. In the last category, mention was made of promising work being done with proton beam therapy at the University of Pennsylvania's Medical Center.
Dr. Sterman was optimistic about the possibilities offered by human gene as well as T cell therapies for mesothelioma, and cited ongoing Phase I/II clinical trials of immunogene chemotherapy combinations with first line treatment of Pemetrexed/Cisplatin and second line treatment of Celecoxib or Gemcitabine +/- Carboplatin. Concluding his presentation, Dr. Sterman echoed Ms. Hesdorffer's calls for increased U.S. government funding for mesothelioma research. In addition, he urged that inter-institutional consortia and public-private partnerships be formed to maximize the use of resources and expertise.
The next person originally scheduled to address the seminar was Debbie Brewer whose talk was to be Report from the UK Mesothelioma Frontline. Ms. Brewer, who had been diagnosed with asbestos cancer in 2006, had become nationally and internationally known as a victim's advocate; she had spoken out on TV and radio about the deadly consequences of asbestos exposure and, in collaboration with other mesothelioma sufferers, founded an online support forum.8 Tragically, Ms. Brewer died on June 9, 2013. To honor her memory and to make sure that MPs would hear her message, her daughter Siobhan and her friend and fellow mesothelioma sufferer Mavis Nye offered to step in at the last moment. Between them, they addressed the subject which Debbie had chosen. There can be no doubt about the anticipation with which this joint presentation was greeted. There was total silence as Mrs. Nye made her way to the front of the room to address the meeting. The story that was told, one of an ordinary life derailed by an avoidable but deadly disease, was gripping. The exposure to asbestos responsible for her illness came from washing her husband Ray's asbestos-contaminated work clothes; while Ray has some lung damage, it is Mavis who has contracted mesothelioma. What is needed, she told the meeting, was a "system that is more central, where information is shared. Why does a doctor in the South know more about Mesothelioma than a doctor up North? Why does one hospital know about drugs that can be used and others do not know?"9 The applause which was received by Mavis was a fitting tribute to her frankness and generosity in speaking so openly about the daily reality of living with mesothelioma.
Then it was the turn of Siobhan Brewer. It seemed that everyone in the room was holding their breath as this young woman prepared to speak. Bearing in mind the huge loss that she and her family had suffered less than one month earlier, it was not surprising. In a place where noise and hot air generally rule the day, it was the quiet anger simply communicated of a bereaved daughter that brought tears to our eyes. Siobhan had accompanied her Mother every step of the way as both her daughter and carer. She remembered the fateful meeting with the first oncologist who told them "bluntly that most patients diagnosed with mesothelioma die within six to nine months." Commenting on the lack of compassion they received that day, she said:
"I have always looked back on that day with anger. It was one of the most difficult days of my life but the system seemed to place no value on us. We felt shuffled in and out quickly with little regard to the devastating news we'd just received."10
Fortunately, Debbie's subsequent medical treatment in Germany and the UK was of a higher standard; unfortunately, the lack of NHS resources meant that, at times, Debbie's healthcare needed to be paid for.
The final segment of Siobhan's presentation dealt with the Mesothelioma Bill, which was at that time going through the House of Lords. The fact that it recognized the plight of mesothelioma patients was promising but specific provisions, including an arbitrary cut-off date and the lack of full compensation, of the draft legislation were unfair. "I believe," Siobhan concluded that "no moral government should deny full justice to those who have already been denied their full life."
It was never going to be easy to follow the powerful and impressive contributions made by Mavis Nye and Siobhan Brewer. The final speaker of the day was Laurie Kazan-Allen, the Coordinator of the International Ban Asbestos Secretariat. Her presentation entitled: The Asbestos War included an update on the machinations of the global asbestos mafia with a particular focus on developments that occurred during the Sixth Conference of the Parties (COP6) to the Rotterdam Convention (April 28-May 10, 2013).
"What was clear to each of the 750+ or so people present during the plenary session asbestos diatribes was the total domination Russia, a country which only ratified the Convention in 2011, was exerting on the proceedings. The discredited arguments cited for opposing action on chrysotile were repeated parrot-fashion by delegates from the Russian gang of 'asbestos refusniks,' including Ukraine, Kazakhstan Zimbabwe, Kyrgyzstan, Vietnam and India, thereafter referred to as the 'Dirty 7.'"11
The high level of activity and support for the actions taken at COP6 by civil society partners, including asbestos victims groups, supporting the listing of chrysotile was recounted and new resources for the global ban asbestos campaign were launched during this presentation. They were: video compilations Asbestos: The Facts and Messages from the World's Scientists and a piece of digital art entitled: The Female Face of Britain's Asbestos Catastrophe.12
It has long been a tradition of the Asbestos Sub-Group to present a framed copy of the seminar agenda to speakers. As MPs had been called away by the division bell, Mavis Nye and Siobhan Brewer were asked to present these tokens of appreciation to Mary Hesdorffer, Dr. Sterman and Rolf Gehring. Laurie Kazan-Allen had the privilege of fulfilling this task for Mavis and Siobhan.13 Two days after the seminar, asbestos victims groups throughout the UK took part in Action Mesothelioma Day, a focal point for activities to raise awareness of the persistent hazard posed by asbestos to UK workers and members of the public and to raise funds for research into treatment and cures for asbestos-related diseases.
2. Environmental Claim against Cape
By Gilly Jones
At any given time, throughout the country there are a number of cases being litigated against Cape Asbestos for environmental exposure to asbestos arising out of emissions from the Cape Barking Factory. On 4 June 2013 the Royal Courts of Justice gave an Order in one of these cases which may serve to make it easier in future for claimants with similar claims to succeed in such actions against Cape. The claimant in this ongoing case, Lindsey Aherne, brings her claim as personal representative of the Estate of Denis Noel Aherne, Deceased.
The Deceased was born in 1944 and lived in Barking from 1947 until 1961. His home address was less than half a mile away from the Cape Asbestos Factory. He attended St. Joseph's Primary School and St. Ethelburga's Secondary School, both of which were less than 250 yards from the Cape Asbestos Factory. The claimant is seeking to establish that her husband's mesothelioma was caused by environmental exposure to asbestos during the period in which he lived in Barking and the Cape Factory was in operation. The claimant has brought a claim on the basis that significant levels of asbestos dust were negligently allowed to escape from the Cape Asbestos premises into the local environment, causing a significant and foreseeable danger to the health of those living within Barking. It is a known fact that the levels of mesothelioma in Barking are extremely high. However, Cape never undertook any air sampling, so there is no information or evidence as to the concentration of asbestos dust in the environment. Cape argues that little or no asbestos dust escaped from its factory, and even if it did, they did not know or ought not to have known prior to 1965 that this posed a risk. Although it is generally accepted legally that post 1965 anyone who owed a duty of care knew or ought to have known that asbestos, even in small quantities, posed a risk of mesothelioma, it does not mean that prior to 1965 someone could not establish that knowledge. However, prior to 1965 a claimant who was not an employee bears the burden of showing that the defendant knew or ought reasonably to have known that exposure to asbestos dust was liable to cause a foreseeable risk of injury or harm.
It is the Claimant's case that it was very likely that Cape, as one of the main asbestos companies, did know of the dangers posed by asbestos, including in small doses and to non-employees. However, establishing this is more difficult. An application was made to the Court for an order that the defendant provide disclosure of letters of claim, originating process, particulars of claims and witness statements arising out of any claim for damages for asbestos related disease made against the defendant and/or its predecessors since 1995 by or on behalf of people who were not employed in the Cape Asbestos Factory in Harts Lane, Barking, but who resided in Barking between 1944 and 1961. This is intended to demonstrate a high incidence of illness, and also to provide a clear picture of the evidence which has been gathered by various solicitors and other parties over time, of what the environment in Barking was actually like during the period in which the factory was in operation.
Cape argued that the information was not relevant. They sought to rely on a Newhouse & Thompson Report dated 1965 which looked at the incidence of occupational and non-familial mesothelioma between 1913 and 1965. Additionally, the defendants submitted that the disclosure if exercised would be so onerous and costly as to be unduly disproportionate to the issues in the claim. They argued that they had previously attempted to undertake such a disclosure exercise and had identified 561 possible cases which they or their solicitors held, each of which would need to be investigated.
The Master who had the case took the view that it was important that a clear picture of what Barking was like during that time was painted in the absence of any other contemporaneous evidence, such as air sampling, to show the true level of asbestos in the environment. Cape were ordered to carry out a search for documents in the 561 cases brought against them which they had previously identified as possible environmental exposure claims. _GoBack_GoBackWhere it is established that any of those claims are environmental claims, then they are required to produce copies of the letters of claim, originating process, particulars of claim and witness statements disclosed or served. Cape asked for permission to appeal the decision, but leave to appeal was refused. Cape has since lodged a formal application with the Court for permission to appeal the Court's refusal of leave to appeal.
Whilst the documents, if disclosed, would be available only in the current claim and any other claims which were run concurrently, or were consolidated with these proceedings, it would leave it open for other environmental claimants to argue that this disclosure should be granted as standard in every case, as it has clearly been determined by the court as relevant disclosure. Anyone conducting a similar environmental claim, or considering doing so, is urged to contact Boyes Turner Solicitors as consolidation of proceedings is being considered in order to extend the benefit of the order to as many claimants as possible.
3. HSE Dismisses the Risks from Damaged Asbestos and Widespread Contaminationin a School
By Michael Lees
The manner in which HSE have handled the asbestos incident at Cwmcarn High School is not only unprofessional but it has also caused confusion and anxiety amongst pupils, parents and staff. It sets a dreadful example of the standards of asbestos management and risks that HSE consider are acceptable in schools.
In September 2012 Caerphilly Council were concerned about asbestos contamination. They commissioned an asbestos consultancy firm, Santia, to assess the extent of the problem and the risks. Widespread contamination was confirmed in the ceiling voids where asbestos insulating board (AIB) ceiling tiles had been ripped out leaving behind debris and amosite fibres. There was a serious potential for the contamination to enter the classrooms as a number of the ceiling tiles were missing or had fallen down because they were saturated with water. In addition AIB panels beneath the classroom windows were frequently scuffed by chairs.14
Of equal concern were the classroom warm air cabinet heaters where the cabinets are made of AIB panels. In 1981 tests showed that significant levels of amosite fibres could be emitted. As these heaters were common in schools, HSE issued a warning that the AIB should be either sealed or preferably removed. More than thirty years later Cwmcarn School had not heeded the warning, and not only was the AIB unsealed, it was also damaged and AIB debris was present. Tests carried out by HSL in November 2012 confirmed that amosite fibres were emitted into the classrooms.
Consequently the Council closed the school. A separate firm of asbestos consultants surveyed the school and confirmed widespread contamination in the voids. An independent assessor examined all the evidence and concluded the school is unsafe. The Council agreed and are now spending £1million on removing the asbestos contamination and heaters before they will allow it to be opened again.
It was therefore of concern that, contrary to the evidence, a senior director of HSE informed the Education Select Committee hearing in March 2013 that the school was "perfectly safe to reopen."15 HSE statements also claimed that the school was "essentially uncontaminated,"16 and in a parliamentary written answer the Minister stated that "The HSE investigation concluded that there are appropriate asbestos management arrangements in place."17 The Asbestos in Schools Group and the Joint Union Asbestos Committee pressed the Minister to publish the HSE investigation. Finally HSE published their report on July 19th, eight months after their investigation.
The report fails to examine all the evidence and the various expert opinions. It ignores, or dismisses evidence of the risks from actual or potential asbestos fibre release. Instead it concentrates on undermining Santia's assessment of the risks. It appears to be written as a defence of HSE's often repeated, and flawed, claim that staff and pupils are unlikely to be at risk in the course of their normal activities.18
HSE is mandated to ensure that asbestos is managed safely in schools. But they have failed to do their job. Because of it pupils and staff have been put at risk. The Council, two firms of asbestos consultants and an independent assessor concluded that the school was unsafe, and correctly took the decision that it should close. Instead of supporting this decision HSE have put considerable effort into undermining it and discrediting the integrity of the professional organisations which made it. Despite evidence of years of damage and disturbance of asbestos materials, HSE concluded that the management of the asbestos in the school is appropriate and the contamination does "not present a risk to the occupants." If those are the standards that HSE consider are appropriate then it not only makes a mockery of their policy of managing asbestos in schools, but their cavalier acceptance of the potential asbestos exposure of children in schools goes someway in explaining why Britain has the worst mesothelioma incidence in the world.
4. Disbursement of UK Insurers' Research Fund
In the dog days of Gordon Brown's Prime Ministership, the Association of British Insurers (ABI), announced that three million pounds would be provided for research into asbestos-related diseases by Aviva, Axa, Zurich and the RSA, UK insurance companies believed to have the highest levels of asbestos-related liabilities. The British Lung Foundation (BLF) was chosen to administer these funds and a consultation process was begun during which questions were asked about the apparent lack of transparency.19 More than three years after the ABI's initial statement, the BLF has made a detailed disclosure of how this money has been spent. Calculations done using the figures received on July 26, 2013 reveal that:
£2,368,126 has been allocated to 17 UK grant recipients with £350,000 in funding reserved for pending applications;
a total of £2,718,126 (91%) of the £3m has been allocated;
the largest grant awarded (£499,908) went to Dr. Robert Rintoul, from Papworth Hospital, for the Mesobank project; the second largest (£199,743) went to Professor Julian Peto for a study entitled "Current asbestos exposures and resulting mesothelioma risks in the UK population."
4 grants (24%) were for less than £25,000; 4 grants (24%) were worth between £50,000 and £100,000; 9 grants (53%) were for more than £100,000. The duration of the projects was between 18 and 36 months.
£281,874 (9%) has been absorbed by administrative costs and BLF asbestos awareness raising campaigns over the last three years.20
Details of the successful applicants are noted below.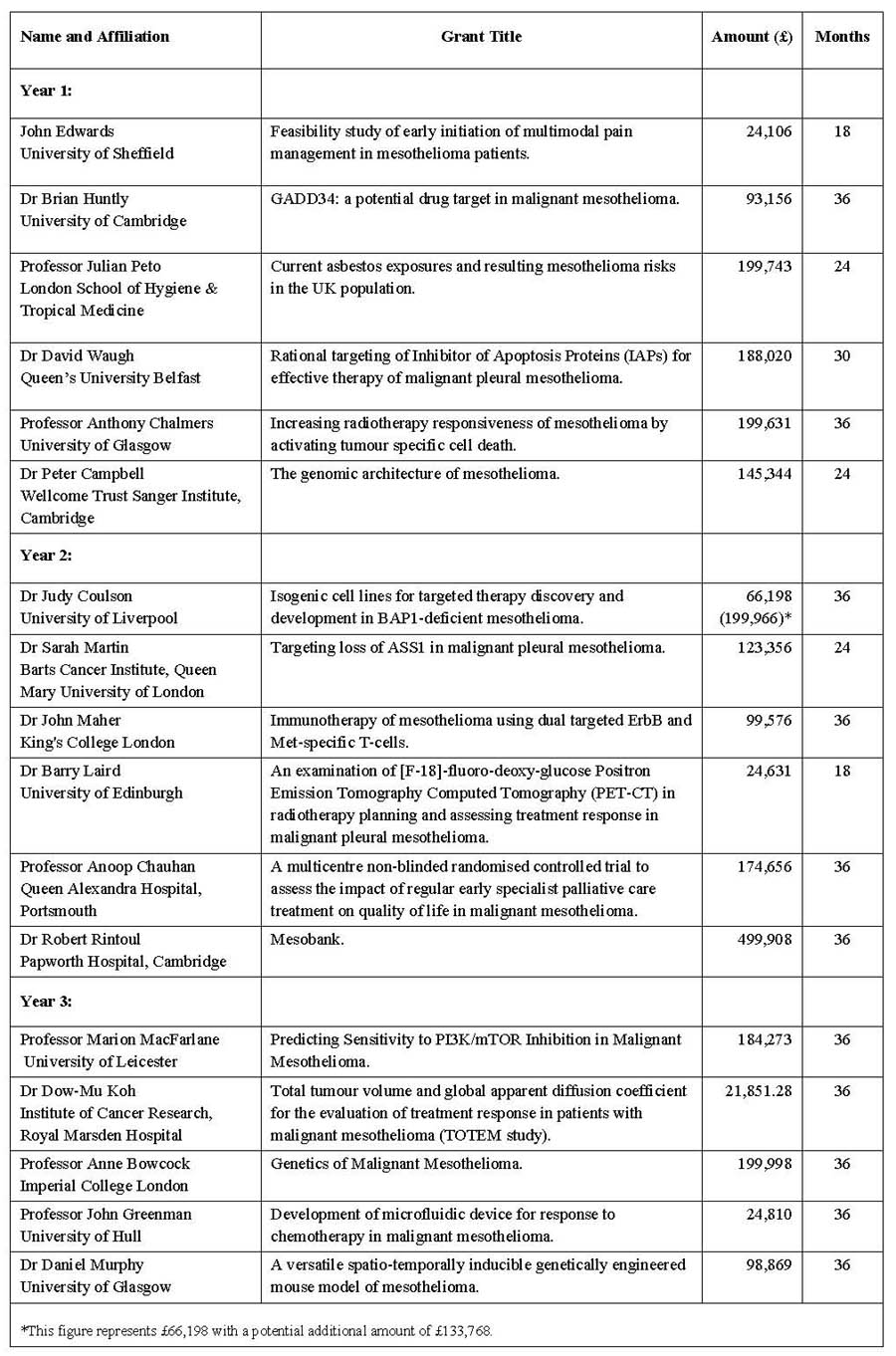 ___________
___________
Compiled by Laurie Kazan-Allen
©Jerome Consultants