BRITISH ASBESTOS NEWSLETTER
Contents:
1. Nancy Tait (1920-2009): An Appreciation – by Geoffrey Tweedale
2. Asbestos Tragedy: "An Error by Science and Society"
3. News Round-up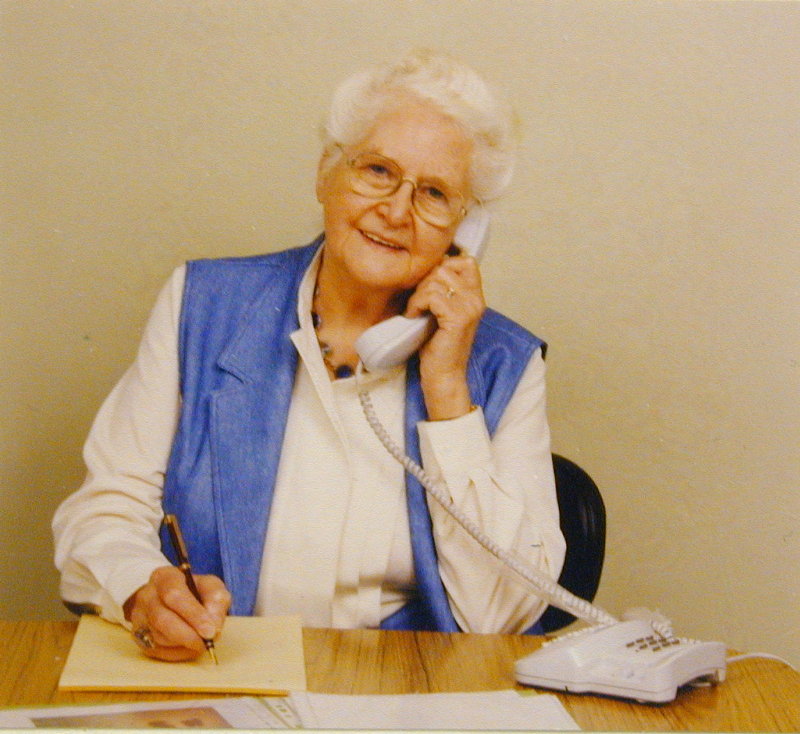 Before the internet, computers and faxes, there was Nancy Tait. In the days when most of the asbestos-injured were unable or reluctant to bring claims, it fell to a mesothelioma widow to take up the challenge. Through a tragic happenstance Nancy Tait, a former civil servant, found herself fighting the political, medical and scientific establishment to obtain justice for those who, like her husband Bill, had suffered the consequences of exposure to asbestos. Using carefully honed skills and a keen intelligence, Nancy exposed a situation long ignored – the national epidemic of asbestos-related diseases. That she was successful at helping others to navigate government bureaucracy and overcome obstacles thrown up by negligent employers at a time when communication was by letters and phone calls is testament to her meticulous record keeping, persistence, and civil service training. The Society for Prevention of Asbestos and Industrial Diseases that she established in 1978 was the first group anywhere in the world to lobby for the needs of asbestos victims. Nancy's death on February 13, 2009 came unexpectedly; individuals who knew Nancy personally as well as members of the global network of ban asbestos campaigners who only knew her by reputation are united in their grief for the death of this much-admired and remarkable woman.
1. Nancy Tait (1920-2009): An Appreciation – by Geoffrey Tweedale
Nancy Tait, the renowned campaigner for the rights of asbestos victims, died in London on 13 February 2009, aged 89. She had been a leading figure in campaigns against asbestos for so long that it takes an effort to recall how different things were in the 1970s when she began her work. It was an era when the asbestos industry in the UK was in its pomp and when legitimate criticisms about its products provoked a massive £m publicity campaign that was designed to reassure the public about the supposed benefits and safety of asbestos. In the same year that the industry launched this campaign (1976), a small booklet appeared that was titled: Asbestos Kills. It offered a contrary discourse about asbestos and warned of the dangers of all types of the mineral. The author was Nancy Tait.
She had good reason to dislike asbestos. She had been married to a telephone engineer, Bill Tait, who died in 1968 from pleural mesothelioma. Her knowledge of his working conditions led to a battle to establish a connection between his death and asbestos. Not until 1972, did the authorities admit that Bill's mesothelioma was due to occupational exposure, at which point the employers offered her a paltry £4,000 (which she refused). Systematic obstructionism by the employers, the government, and the medical community radicalised her into an asbestos activist, who attempted to highlight the dangers of asbestos and to fight for better compensation. In the early 1970s, she researched, lobbied, and helped victims from her house in north London. In 1978, spurred by the asbestos industry's well-financed lobbying efforts, Tait formally launched the Society for the Prevention of Asbestosis & Industrial Diseases (SPAID).
SPAID (later renamed the Occupational & Environmental Diseases Association, or OEDA) was the forerunner of a string of asbestos victims' groups world-wide – making Nancy a pioneer. Her group, which was a registered charity, offered free advice and support to those with asbestos-related diseases (and other occupational illnesses) and their families. She discovered that the key to the problem was information and she became extraordinarily well-informed about asbestos – both from the scientific and legal standpoints. Characteristically, SPAID soon acquired an electron microscope for the analysis of asbestos fibres in lung tissue, for use in inquests and compensation cases.
Inevitably, she was dismissed as an amateur by the scientific community, while the industry tried to discredit her. In 1976, their lobby group published a rebuttal of what it described as Mrs Nancy Tait's Thesis. But it had little effect and the asbestos industry never discovered a way to handle her. As a devout and respectable widow, whose life had been damaged by their product, the industry could hardly smear her as a left-wing subversive. At conferences or in inquest proceedings, she proved a formidable debater, who tackled her work with total seriousness and took no prisoners. Even personal-injury lawyers could get upbraided if they took too much in fees or refused to take on difficult cases, while trade unionists could also get criticised. In 1983, she famously walked out of an International Labor Organization convention in Geneva in protest at what she saw as unwarranted industry influence. Underlying this, however, was a powerful humanity that placed the victims of asbestos first.
I met Nancy for the last time in 2006, when I visited OEDA to interview her again about the origins of her activism. It was evident that OEDA was winding down, due to lack of funding and Nancy's increasing age. But her mind was as sharp as ever, as she recalled the painful circumstances of her husband's death. She was surrounded by the vast archive she had accumulated. As I left, she gave me a copy of a detailed typescript that she had compiled about how she had been denied her legal rights in the aftermath of Bill's death. It is a shocking document that, in Nancy's words, demonstrated how officialdom was "completely unscrupulous and ruthless."
At the end of decades of campaigning, she could reflect on how often she had been right about asbestos and the experts wrong. She had long highlighted the dangers of white asbestos (banned in 1999); for many years had urged that the location of asbestos should be recorded in order to protect future workers (a demand met by work regulations in 2002). Above all, in 1976 she had warned that mesothelioma deaths were occurring among construction workers, electricians, dockers, and carpenters – occupations usually overlooked in official studies. She regarded workers in the building trades as at special risk. Her prescience was underlined within days of her death, when a study hit the media that highlighted the catastrophic mesothelioma mortality among exactly those workers. This continuing and worsening mesothelioma mortality underlines how much asbestos victims will miss Nancy Tait and the services of OEDA.1
2. Asbestos Tragedy: "An Error by Science and Society" 2
Throughout the first quarter of 2009, the UK's asbestos scandal has been headline news. The mounting asbestos death toll, the impact on local communities and the contamination of schools have been highlighted by national newspapers, regional television programs, online media, academic journals and trade publications. Calls to curtail hazardous exposures, establish a coordinated research strategy and support victims have been made at public meetings, in Parliament and in the pages of the Daily Mirror. The heightened public awareness of the toll being paid by ordinary men and women – "The UK has the highest death rate from mesothelioma in the world"3 – is a result of the efforts of asbestos victims, the Asbestos Victims Support Groups Forum, campaigning medical professionals, trade unionists, politicians and concerned individuals, such as Michael Lees who, since his wife's tragic death from mesothelioma, has become the UK's leading expert on asbestos in schools.4
In the run-up to Action Mesothelioma Day 2009 (AMD), the Daily Mirror, one of the country's most widely read tabloids, launched a high-profile campaign: The Asbestos Timebomb. Day after day, the Mirror examined the far-reaching impact asbestos has had throughout the country in articles such as:
200,000 Will Die in Asbestos Timebomb. February 21, 2009.5
The Dust of Death and "It was like a fog." March 2, 2009.
One in 10 Doomed – How an entire generation of carpenters has been blighted by asbestos cancer and A deadly mix – no warning (the experience of mesothelioma sufferer Ernie White). March 3, 2009.
Classroom killer was kept secret. March 4, 2009.
Asbestos timebomb: Outrage of dying cancer victims forced to wait for their payouts. March 5, 2009.
Asbestos timebomb: Cowboy bosses exposing workers to lethal asbestos. March 6, 2009.
Asbestos timebomb: Scots to overturn Lords compensate ban. March 9, 2009.
Asbestos Timebomb: Pupil will sue after 30 years and Asbestos city – a shocking 90% of schools in Greater Manchester contain deadly asbestos. March 10, 2009.
How Turner & Newall condemned its workers to an agonising death. March 14, 2009.
Law gives Scots cash for early asbestos lung disease but not English victims. March 13, 2009.
Ronald Tetlow: No factory records, no payout. March 16, 2009.
Asbestos in 90% of British schools. March 18, 2009.
All-party MPs join our Asbestos Timebomb campaign. March 24, 2009.
Throughout its campaign, the Mirror demanded that the following actions be taken:
Establish a £10 million National Centre for Asbestos Related Diseases (NCARD).
Reinstate compensation for pleural plaques victims.
Set up an industry-funded Employers' Liability Insurance Bureau to provide compensation for sufferers who can't trace their employers' insurers.
Mandate the establishment of a public register of all asbestos surveys carried out on public buildings.
Provide the Health and Safety Executive with sufficient resources to meet its targets for inspecting asbestos removal work.
Support for these objectives was expressed in an online petition to Number 10 submitted by the Asbestos Victims Support Groups Forum: "We the undersigned petition the Prime Minister to Support the aims of the Daily Mirror's Asbestos Timebomb Campaign."6 Political backing for the national asbestos campaign was expressed by scores of politicians who signed Early Day Motion (EDM) 1052: The Daily Mirror Asbestos Time Bomb Campaign; the EDM endorsed each one of the Mirror's five demands.7
The urgent need for ring-fenced government funding for medical research into asbestos-related diseases was a theme of many of the activities which took place on February 27, 2009: Action Mesothelioma Day (AMD). The day was marked nationwide with events, ceremonies and services. Asbestos victims' groups organized informative programs and convivial social events which created public space for sufferers and relatives to detail their experiences of mesothelioma, describe effective coping mechanisms and share practical information on a range of subjects.8 While remembering those who have been lost, bereaved family and friends were comforted by the knowledge that they were not alone. Commenting on the scarcity of government funding for mesothelioma, Tony Whitston, Chair of the Asbestos Victims Support Groups Forum, said:
"In the U.S., mesothelioma has been given research priority to bid for mesothelioma research projects from the defense research budget in recognition of the thousands of veterans exposed to asbestos in the service and in naval shipyards. In Australia, the government has given $6 million to fund a research centre. Society has a moral obligation to stand by those who have lost their health and their lives in creating this country's wealth."
More than one hundred MPs signed Early Day Motion 879: Action Mesothelioma 2009 Campaign, which welcomed grass-roots efforts to raise asbestos awareness and improve medical treatment offered to those in need.9
On March 11, 2009, an Employers' Liability Insurance Bill was published which would give victims of asbestos parity with people injured by uninsured drivers. Explaining the reason why he launched the Private Member's Bill, MP Andrew Dismore said:
"There are only two types of insurance which are legally compulsory: for cars and for employers. If a driver does not have insurance, then there is a residual 'insurer of last resort' arrangement, the Motor Insurance Bureau, which will pay out if somebody is injured due to a negligent driver who was not insured. However, there are no similar provisions in relation to employers' liability. Some employers do not have insurance, clearly a criminal offence, but it is not fair that an injured worker should lose out as a result."10
Also on March 11, the Scottish Parliament acted to improve the plight of sufferers from pleural plaques when The Damages (Asbestos-related Conditions) (Scotland) Act was passed by a vote of 98:16.11 This legislation overturned a 2007 House of Lords ruling which withdrew compensation for people with this condition. Royal Assent for the Bill is expected in April 2009, after which claimants whose exposure took place in Scotland could, once again, bring claims against negligent employers.12 Even as the Act was proceeding through the Scottish legislative process, threats of a legal challenge were being made by insurers. Days before the vote at Holyrood, the Sunday Herald reported that four insurers, AXA, Norwich Union, RSA and Zurich, were preparing to seek a judicial review if Scotland reinstated the right to sue for pleural plaques. "It is understood," wrote journalist Tom Gordon "that Edinburgh law firm Brodies is co-coordinating the judicial review… The Lawyers have already engaged two of Scotland's most formidable advocates to attempt to overturn the law at the Court of Session."13 The passage of the Bill was not welcomed by Nick Starling, the Director of General Insurance and Health at the Association of British Insurers:
"This Bill is fundamentally flawed. It ignores clear medical opinion that plaques are symptomless, and do not cause other asbestos-related conditions. And the full cost implications of this measure which will be paid for by all Scottish taxpayers and firms, have been ignored. The Scottish Government has already admitted that its initial cost estimates were too low.
This vote could have profound and unintended consequences beyond pleural plaques. It ignores the fundamental legal principle that compensation is paid only where there are physical symptoms, and could open the floodgates for claims from people exposed to a risk, but showing no symptoms."14
A spokesperson for the campaigning group Clydeside Action on Asbestos (CAA) was of another persuasion; Harry McCluskey of CAA said: "It is my firm belief that it is the fundamental right of people with an asbestos related disease to call to account negligent employers through the pursuit of compensation." His colleague Phyllis Craig added:
"The impact of a diagnosis of pleural plaque should never be underestimated. A diagnosis confirms that asbestos exposure has caused physiological change to the lung and raises the very real possibility of developing another asbestos related disease. The Scottish Government have recognised this, and have acted on behalf of people who were exposed to asbestos simply by going to work."15
English and Welsh pleural plaques sufferers remain in limbo while Westminster continues to tinker with the outcome of a pleural plaques consultation which finished in October 2008. Various politicians have issued teasing remarks such as that by Justice Minister Bridget Prentice quoted in early March: "The Government is trying to sort something out to support those people who felt that they had a slap in the face when the Lords' decision was made… I am really pressing Secretary of State of Justice Jack Straw to get something out as soon as possible."16 Campaigners in Northern Ireland hope that the Northern Ireland (NI) Executive will follow Scotland's lead. A meeting of the NI Committee for Finance and Personnel on February 11, 2009 was briefed on the NI pleural plaques consultation, which was completed on January 12, by officials from the Department of Finance and Personnel: Oswyn Paulin and Laura McPolin.17 It was agreed that "a further evidence session will be scheduled."
As in other parts of Great Britain, the consequences of asbestos exposure have had a major impact in Wales. From 1981-2005, there were 933 male mesothelioma deaths in Wales, of which 122 (13%) were in Cardiff; 386 deaths (41%) occurred in: Swansea (94), The Vale of Glamorgan (67), Wrexham (59), Carmarthenshire (57), Flintshire (56) and Newport (53). On March 24, a seminar entitled: Asbestos: The Hidden Killer in Wales was held in the Ty Hywel Building of the National Assembly.18 Nick Ramsay, Member of the Welsh Assembly and one of the organizers of the information session, reported:
"The largest conference suite in the Assembly was crowded with politicians, civil servants, trade unionists, business people, members of the public and media who heard presentations by leading UK experts on medical issues and government plans to reduce future deaths from asbestos-related diseases. As this was the first asbestos information session to be held in the National Assembly for Wales, we were delighted not only with the number of people who attended but with the positive feedback we have received. I will certainly be following up with relevant Ministers the issues raised by the presentations."
The latest data on British mesothelioma deaths shows an increase in the number of fatalities from 153 in 1968 to 2056 in 2006. Government projections suggest that the rising mortality rate could peak at 2450 deaths by 2015. Adding deaths from other asbestos-related diseases to the government mesothelioma statistics could yield the staggering figure of 40,000+ for asbestos mortality between 2006 and 2015. As horrendous as this figure is, it does not, many say, begin to reflect the true scale of the country's asbestos plague. Since the mid 1970s, Ian Pass of Pass Consulting (in Sussex), has undertaken projects involving asbestos management in Asia and Africa, and since 2000, in the UK. Commenting on the latest predictions he says:
"From my experience, the official government data on asbestos-related mortality appears to represent the tip of the iceberg. From mid 2002, I have kept a running total of clients, company directors and taxi drivers etc., who have anecdotally reported to me the details of someone they've known closely who died from asbestos illness. As of February 2009, this running total of deaths stands at 94. Given that I personally speak to a minute fraction of the UK population, I can only assume that the actual asbestos death toll is far higher than is being reported. When I raised this subject at a London seminar in October 2007 with leading experts, they did not disagree with the figure of 40,000 - 60,000 annual UK deaths which I proposed.
Going beyond the almost total ignorance of asbestos issues that I met across Africa and Asia, in the last 9 years working in the field of asbestos management in the UK, I have yet to meet a builder, demolition worker, plumber or carpenter who has been on an asbestos awareness course. To me, their knowledge of what might or might not be asbestos is abysmal and similarly, their understanding of what is required under the Control of Asbestos at Work Regulations 2006, etc. is close to non-existent. In my view, asbestos will continue to be the silent killer as long as: regulations are not rigorously enforced, employers are not made actively aware of their obligations and liabilities, line managers of maintenance staff and building workers neither allow for asbestos awareness training, nor check for an asbestos register (and what it might have to say), before start of works and there is little or no regulatory control of asbestos in domestic property."19
On March 25, 2009, two events took place which propelled the issue of asbestos in schools into the limelight. From 4:15-4:52 p.m., MPs discussed this issue during a debate secured by Paul Rowen, the representative of Rochdale and the Liberal Democrats' Shadow Spokesperson on Work and Pensions. Having paid tribute to a cross-section of campaigners, scientists, reporters, politicians and trade unionists whose work had exposed the hazard which exists in "a large number of our schools that were built or modified between the 1940s and 1985," Rowen confirmed the widespread nature of the contamination: 903 out of 1,043 (87%) schools in Greater Manchester were affected, as were 1,499 out of 1,606 (94%) schools in Kent, Sussex and Surrey." 20 The former secondary school teacher pointed out the serious repercussions for teachers. Since 1980, 178 have died from asbestos-related diseases: "between 1980 and 2000, the PMR (proportional mortality ratio) for male school teachers was almost 10 time greater, at 57, and for females it was almost three times greater, at 100 (than non-asbestos exposed members of the public)."21 Michael Lees, whose schoolteacher wife died from asbestos cancer, was unimpressed by the Government's comments during the parliamentary debate:
"Replying to Paul Rowen's request for fundamental policy changes, Minister Sarah McCarthy-Fry avoided the main issues and instead offered superficial remedies. She stated that it is safer to manage asbestos than remove it, even though this policy has been responsible for frequent instances of widespread asbestos contamination and hazardous exposure to school users; the mesothelioma deaths of 178 schoolteachers are ample proof of the failure of this policy. The government has no real idea of the scale of the problem because over the decades they have refused to carry out an audit or a risk assessment. Compounding the problem is the lack of government training and funding that is essential so that their policy of asbestos management actually can work.
The Minister put forward Building Schools for the Future and the Primary Capital Programme as the solution; however, she adroitly avoided mentioning whether asbestos would be removed in the 20,000 primary schools that are going to be refurbished. The evidence is that some councils intend to leave the hidden asbestos in place. Although the Minister concluded that nothing is more important than the safety of children in our schools, her words are not borne out by the facts. Once again the public was placated with platitudes when what was needed was the political commitment to address the mammoth problem of asbestos in schools. Until then, our teachers and children will remain at risk. Sadly, it is inevitable that many will continue to die."
Just a few hours after the parliamentary debate, the BBC broadcast an edition of the series Inside Out England which included a segment about asbestos in schools. The reassurance given by Rosalind Roberts from the Health & Safety Executive that asbestos is "a health risk that is being managed," was exposed as unfounded by conditions such as those at Chaucer Technical School; amosite found during an unscheduled inspection forced the shutdown of one classroom and the subsequent removal of the hazardous material. It was estimated that nationwide 70% of school buildings contain asbestos; as much of the asbestos-containing material is 50 years old, it is unstable and friable and likely to liberate carcinogenic fibers upon handling. The reporter concluded that the Government's policy of "management" rather than removal had failed.22
It is ironic that even though the UK was the first country to adopt legislation to minimize hazardous occupational exposures (Asbestos Regulations 1931), the national asbestos epidemic continues unabated. For far too long, successive governments have ignored the warnings of those with first-hand experience of this tragedy; the disinterest of the media and the lack of public awareness have allowed them to do so. The recent build-up of interest as evinced by the many developments detailed in this report could mark a turning point – watch this space!
Recent Publications/ Meetings
Occupational, domestic and environmental mesothelioma risks in the British population: a case-control study, published online on March 3, 2009 in the British Journal of Cancer, highlighted the devastating impact of asbestos in Britain which now has the highest mesothelioma death rate in the world with 1749 male and 288 female deaths in 2005.23
Lung Cancer Mortality and Fiber Exposures among North Carolina Asbestos Textile Workers,24 published online on March 11, 2009, "provides further evidence that exposure to chrysotile asbestos in textile manufacturing is associated with increased risk of lung cancer, asbestosis, cancer of the pleura and mesothelioma." A follow-up of 5,770 workers revealed that mortality from all causes, including cancer, was higher than expected. There were elevated standardized mortality ratios for pleural cancer, mesothelioma and pneumoconiosis; the risk of asbestosis and lung cancer rose with cumulative fiber exposure.
From March 17-24, 2009 the International Agency for Research on Cancer (IARC) Monographs Secretariat held a meeting on the: Evaluation of Carcinogenic Risks to Humans25 in Lyons, France. Colleagues who attended this meeting confirmed the following findings:
there is sufficient evidence that all forms of asbestos (actinolite, amosite, anthophyllite, chrysotile, crocidolite, tremolite) cause mesothelioma as well as lung, laryngeal and ovarian cancers in humans. There is sufficient evidence in animals to show that all forms of asbestos cause lung cancer and mesothelioma.
There is limited evidence that asbestos exposure causes pharynx cancer, stomach cancer and gastrointestinal (GI) cancers. The evidence on GI cancers was the strongest of these three and the Working Group vote was evenly split between limited and sufficient evidence for this site.
Recent Verdicts
November 25, 2008: A verdict of death by industrial disease was handed down after an inquest in Leeds into the mesothelioma death of 58-year-old actor David Nichols who was exposed to asbestos whilst working at the Beans Industries factory in Tipton, West Midlands.
November 26, 2008: Judge Platts in the Liverpool County Court issued a plaintiff's judgment in the case of Elaine Storey v. James Marmon & Son Ltd.26 The defendant argued that as the pain experienced by Annie Storey, the claimant's mother, had lasted less than 3 months, the amount payable should be in the region of £22,000-£35,000. The judge did not agree and following the approach of Senior Master Whitaker, who oversees the fast track system in London, awarded £47,500 for pain, suffering and loss of amenity.27
Future Events
Planning and Preparing Your Asbestos Cases
Events being run by the APIL training team on May 14, 2009 (Manchester) and June 4, 2009 (London) will feature a panel of speakers including Senior Master Whitaker, Barristers Alan Gore QC and Andrew McDonald, Solicitor Karl Tanks and medical and engineering experts who will "provide a framework for the conduct and claims management of asbestos cases." These sessions are geared towards solicitors new to the field of UK asbestos litigation.28
"Dust"
From July 15-18, 2009, a play called "Dust," based on June Hancock's fight against the multinational corporation which caused her asbestos cancer, will be showcased at the West Yorkshire Playhouse. For more information see: www.wyplayhouse.com/events
Asbestos Related Lung Cancers Conference
On September 18, 2009 a conference aimed at experienced practitioners who wish to catch up with recent developments will take place in London. Organized by APIL training, the program will be chaired by Alan Gore QC and feature presentations by eminent experts including: Dr. Robin Rudd, Engineer Peter Deary, Barrister Andrew McDonald and others. 29
___________
___________
Compiled by Laurie Kazan-Allen
ÓJerome Consultants